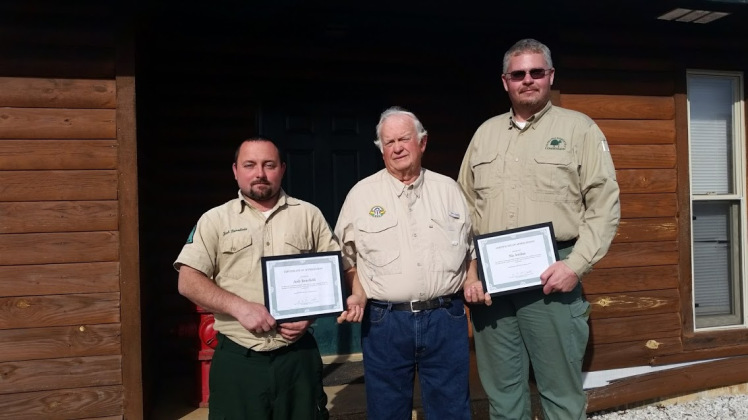 Picture (l to r): Josh Benefield, Alabama Forestry Commission, W. N. McCollum, President of the Clay County Forestry Planning Committee, and Nick Jordan, Alabama Forestry Commission
The Clay County Forestry Planning Committee and TREASURE Forest Association recently recognized local Alabama Forestry Commission (AFC) employees Nick Jordan and Josh Benefield for their dedication to protecting the property of private forest landowners and home owners from wildfire. The work of these two wildland firefighters often goes unnoticed when they are called out at 2 a.m. to a wildfire.
This fall, during one of Clay County's worst droughts, Jordan and Benefield saw fire act abnormally, such as burning across an already-burned forested area or where a fire burned in a cutover more than a month before and flared back up because of no rain. Limited precipitation, high winds and low humidity caused fire to do strange things and made stopping wildfires a challenge because every ember that blew across the firebreaks could mean another fire.
The next time you see an AFC member, thank them and let them know they are not forgotten when the public is resting and they are putting themselves and their dozer between you and another wildfire. This is just part of the work they and their colleagues across the state do to protect Alabama's natural resources.
By Lamar Dewberry, Clay County