Alabama Landowners Conference
---
October 14-16, 2018 • Prattville, AL
Welcome to the Alabama TREASURE Forest Association's 2018 annual meeting page! Below, you will find information on the conference, including an agenda, speaker biographies, silent auction information and information on becoming a sponsor. Please note, registration is through the Alabama Forestry Association and by following the registration link, you will be directed to AFA's website. If you have any questions, feel free to contact William Green at wmgreen@alfafarmers.org or (334) 612-5235. 
This year, we are excited to announce a new direction for our annual conference. We will be joining forces with the Alabama Natural Resources Council and the Tree Farm Committee to present the inaugural Alabama Landowners Conference. Our goal is to lessen the financial burdens and time commitments for landowners while continuing our tradition of providing quality educational sessions and tours. We will also honor our state's most accomplished land managers.
The 2018 Alabama Landowners Conference will be held at the Marriott Prattville Hotel & Conference Center at Capitol Hill on Oct. 14-16. While it has a new name, we can assure you that the quality of event programming will stay the same. This conference gives private landowners from around the state a unique learning experience. Not only do they hear from industry and research professionals, but they also share with each other the challenges of managing private property.
Following a similar format to last year's meeting, the meeting begins Sunday evening with a welcome reception. Monday, we will hold our Association's business meeting followed by the educational sessions and an awards banquet that evening. The conference concludes Tuesday with a pair of local tours.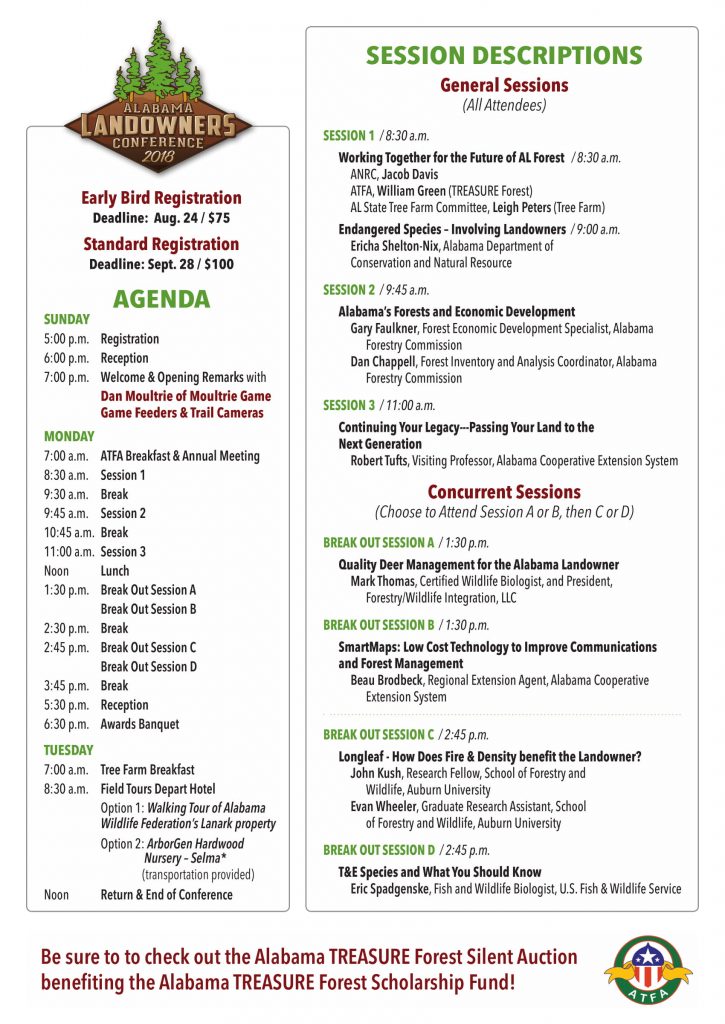 Hotel Accomodations
Attendees are responsible for making their own hotel arrangements.
A room block has been reserved at the Marriott Prattville Hotel & Conference Center at Capitol Hill. Reservations can be made by calling the hotel directly at (334) 290-1235. Please reference the "ANRC Conference" to receive the discounted rate of $119 a night.
Marriott Prattville Hotel & Conference Center at Capitol Hill
2500 Legends Circle
Prattville, AL  366066
334-290-1235
Conference Speakers
---
---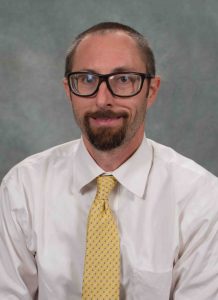 DAN CHAPELL has served since June of 2016 as the Coordinator of the Alabama Forestry Commission's Forest Inventory and Analysis Program, overseeing a field staff of 6 who collect inventory data from 5,600+ established research plots across the state on a continuous 7-year cycle.  Alabama was the first of the fifty states to complete the 2017 FIA survey, and was again first in the nation to complete the 2018 FIA Survey.  He is a 2002 graduate of the University of Georgia's Warnell School of Forest Resources.  Following graduation, he was an employee of the Georgia Forestry Commission for over 13 years collecting FIA data for the Southeast region of the state.  He is a recent graduate of the 2017-2018 Alabama Public Safety Leadership Academy and of the Auburn University Intensive Economic Development Course put on by the University's Government and Economic Development Institute. Dan is presently serving as the Chairman of the Southern Group of State Forester's FIA Committee.  His 2017 Forest Resource Report on the state of the state's timber growth and supply is available for download on the Forestry Commission's homepage.  
---
---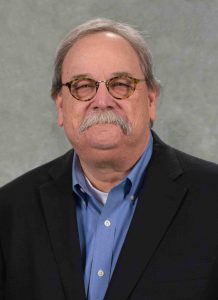 GARY FAULKNER currently serves as Forest Economic Development Specialist with the Alabama Forestry Commission. Prior to this appointment, he was Principal of The Faulkner Group LLC in 2015 through 2017. Mr. Faulkner retired with the State of Alabama, Alabama Department of Commerce (Commerce) in 2014, after 31 years of service.  At retirement, he served as Director of Business Development reporting to the Secretary of Commerce. Prior to this position, he served as a Senior Project Manager and International Development Representative.
Prior to his tenure at Commerce, Mr. Faulkner held a position with the Alabama International Trade Center as an International Trade Specialist. He began his professional state career at the Alabama Forestry Commission (AFC) engaged as Chief of Utilization & Marketing. Gary was an Honor Graduate of the Alabama Forestry Academy in 1984.
Mr. Faulkner has degrees from Auburn University in Industrial Management (1974) and Forest Management (1982).  Further, he has Certificates of Training from the Auburn University Intensive Economic Development Training Course and the University of Oklahoma Economic Development Institute.  He is also an Alabama Registered Forester (#1196 - current).
---
---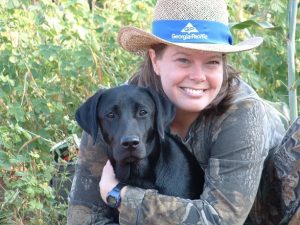 ERICHA NIX is a Northern Virginia native that cultivated an appreciation for the outdoors from her father, an avid fisherman and outdoorsman and her mother who has a passion for birding and wildflowers. Her work experience is varied as she served in the Virginia Army National Guard for 6 years as an Army medic and later worked for private practice in the medical field. With her heartstrings pulling her back to the outdoors she went back to school and pursued a Bachelor's degree in Wildlife Management at Auburn University and graduated Magna Cum Laude in 2002. She is a Certified Wildlife Biologist® with over 16 years of service with ADCNR's Division of Wildlife and Freshwater Fisheries.
Currently, Erica works in the Nongame Wildlife Program but has worked in several DWFF programs that include providing technical assistance to landowners in species and habitat management, deer management program, law enforcement, youth dove hunt program, hunter education and has worked on management areas within District 4. Spare time activities that she takes part in with her family includes hunting, fishing, hiking, kayaking, outdoor photography and sewing.
---
---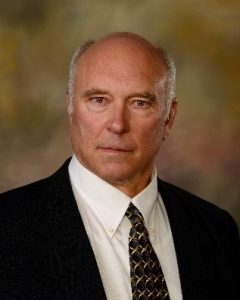 ROBERT TUFTS is an Emeritus Professor at Auburn University where he taught for 36 years. He is currently a Visiting Professor with the Alabama Cooperative Extension System. He earned a B.S. and M.S. in forestry from Louisiana State University and a Ph.D. in forestry from Virginia Tech. Robert has been an attorney since 1997 after earning a J.D. from Jones School of Law, Faulkner University and later an LLM (in taxation) from the University of Alabama. Robert teaches classes and presents workshops on estate planning, agricultural law and tax, property law, choice of business entity, and taxation of timber. He also has a part-time law practice concentrating in estate planning, tax and issues affecting landowners.
---
---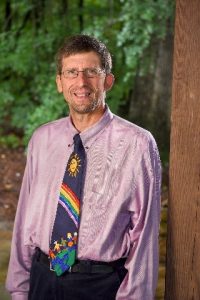 JOHN KUSH is a research fellow in the School of Forestry and Wildlife Sciences at Auburn University.  His Bachelor of Science degree in Forest Science came from the University of Illinois, Urbana-Champaign.  He received his Master's and PhD, both in Forest Ecology from Auburn.  He has been conducting research for over 34 years with a focus on stand dynamics, fire effects, and restoration.  He has taught classes in forest ecology; forest measurements; longleaf pine management; restoration ecology; forest stand dynamics; fire ecology and fire management; and natural resource sampling.  He has authored/co-authored book chapters and numerous publications. He is a certified senior ecologist and was inducted into the Alabama Foresters Hall of Fame in 2017.         
---
---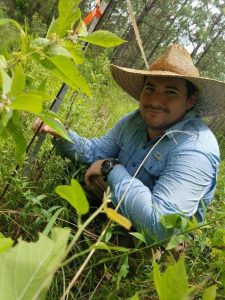 EVAN WHEELER is a graduate research assistant in the School of Forestry and Wildlife Sciences at Auburn University pursuing a Master of Science in Wildlife Sciences degree. He received his Bachelor of Science in Wildlife Sciences from Auburn University in 2007 and a Master of Science in Environmental Biology from the University of West Florida in 2012. The focus of his current research is to examine the effects that longleaf pine planting density has on timber stand structure and habitat quality for focal wildlife species. His major research intention is to provide information that will be valuable in helping landowners and land managers optimize longleaf pine establishment and management approaches in order to achieve silvicultural and wildlife habitat objectives. He has previously conducted research on marsh birds, upland game birds, waterfowl, and American alligators and has teaching experience in biology, zoology, developmental biology, and ecology. He is an avid outdoorsman, especially dedicated to saltwater fishing and wing shooting.
---
---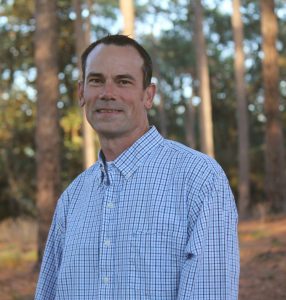 ERIC SPADGENSKE holds a Bachelor of Science degree in Fisheries and Wildlife Management from the University of Minnesota and a Master of Science degree in Biology from Georgia Southern University.  Eric's master's thesis focused on reproductive success of Red-cockaded Woodpeckers in southeast Georgia.  In his current position with the U.S. Fish and Wildlife Service, Eric is State Coordinator of the Partners for Fish and Wildlife Program.  He has spent the last 15 years coordinating the private land habitat restoration program in Alabama – working on a variety of resource issues from longleaf pine restoration to dam removals for aquatic restoration.  Prior to coming to the USFWS, he spent 10 years as an Endangered Species biologist at Fort Stewart, Georgia.  Eric and his wife Jennifer live in Daphne, AL, and have two children.  When he is not traveling across Alabama for work he enjoys surf fishing and running.
---
---
BEAU BRODBECK is both an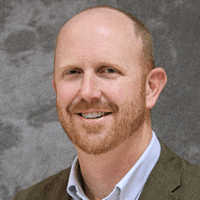 Extension Forestry Agent and an Affiliate Faculty in the School of Forestry and Wildlife Sciences at Auburn University. Beau holds a PhD in forestry and is both an Alabama Registered Forester and ISA Certified Arborist. Over the past seventeen years Beau has worked in various facets of forest and urban forest management. He began his career as a forestry consultant before transition to becoming an Urban Forest Specialist at Auburn Extension managing the Alabama hurricane recovery program. Over the past few years Beau has developed a number of educational programs and publications to serve the forestry and urban forestry communities in Alabama. His research has focused on urban forestry practices as well as migrant labor within the forest industry. Beau currently serves on the Research Committee and as a Trustee at the Tree Fund and as president elect of the International Society of Arboriculture Southern Chapter.
Thanks to all of our sponsors!
Don't see your company or organization?
Alabama Farmers Federation, Platinum Sponsor
Alabama Farmers Agriculture Foundation, Platinum Sponsor
Alabama Ag Credit, Gold Sponsor
Alabama Farm Credit, Gold Sponsor
Wilcox County Soil & Water Conservation District, Gold Sponsor
Auburn University School of Forestry & Wildlife Sciences, Silver Sponsor
First South Farm Credit, Silver Sponsor
South Alabama Electric Cooperative, Bronze Sponsor
Regions Natural Resources & Real Estate, Bronze Sponsor
Coosa Valley RC&D, Bronze Sponsor